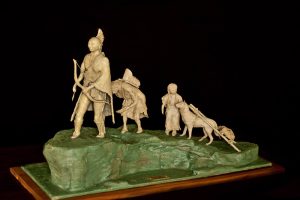 This complete package includes:
1. The "BIG PRIZE" Four original life size clay sculptings created by the artist and used to create the Osage Trail Sculpture project will be yours! The man stands over 6 feet tall. The woman and girl around 5 feet, and the wolf with travois around 6 feet long. These sculptings would be great in a foyer or museum type entry way.
2. Enjoy one night for two guests at a local hotel.
3. Enjoy dinner with the artist at a local establishment.
4. Tour the monument grounds and chat with the artist about what it took to create the project.
5. Tour the local museum and discover great events that happened in this area.
6. Get a hands on experience and help with a current project and learn about what is involved.
7. Receive behind the scenes photos, videos, and other memorabilia.
10% of proceeds will go to the Native American charity of our choosing.
Complete Package: $25,000.00
Please Contact Us To Make Arrangements.